Inoar - G-Hair Smoothing Treatment - 3-Step Keratin Kit - 8.4oz / 250ml each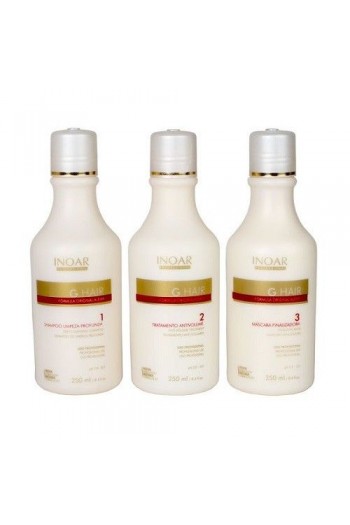 Delivering astounding results for a period of up to 5 months, the lasting smoothness you could only dream about is now a reality!
The INOAR G-Hair keratin smoothing systems is an incredibly powerful treatment that delivers fantastic results, making it a perfect match for even the frizziest, curliest type of hair.
This revolutionary formula infuses Keratin deep into the hair's cuticle, promoting intense hydration and remarkable shine.
Unlike other salon services, the more often hair is treated, the healthier it becomes.
With each treatment, the absorption of Keratin protein makes the hair easier to manage with its improved texture, and reduce up to 95% of frizz and curls.
Kit Includes:
Deep Cleansing Shampoo - 8.4oz / 250ml
Anti-Volume Treatment - 8.4oz / 250ml
Finalizing Mask - 8.4oz / 250ml
Related Products