Inoar - POS Progress Kit - Shampoo/Conditioner/Leave-In - 8.4oz / 250ml each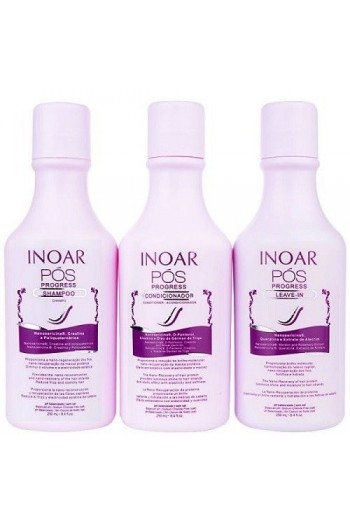 STRAIGHT AND BEAUTIFUL HAIR FOR A LONGER PERIOD
Hair treated with a progressive brushing is beautiful but requires special care.
Bearing this in mind, Inoar Cosmetics developed the Post Progressive line, which replenishes to the hair an element that is essential for the health of hair fibers – keratin – that is lost during and after hair treatments.
Its formula is rich in d-Pantenol and reduces split tips and maintains the health and natural softness of the hairs, in addition to preserving the straight hair effect of the progressive brush for a longer period.
The POS Progress Sodium-Chloride free shampoo, conditioner, and leave-in promote a longer life span to the INOAR keratin treatment while nourishing the hair and giving the Keratin an extra boost to perform at its highest potential.
The POS Progress keeps the hair looking silky and shiny while protected from damage caused by blow dryers and flat irons.
Kit Includes:
Shampoo - 8.4oz / 250ml
Conditioner - 8.4oz / 250ml
Leave-In - 8.4oz / 250ml
Related Products