Artistic Colour Gloss - Spring 2014 Collection - All 4 Colors - 0.5oz / 15ml Each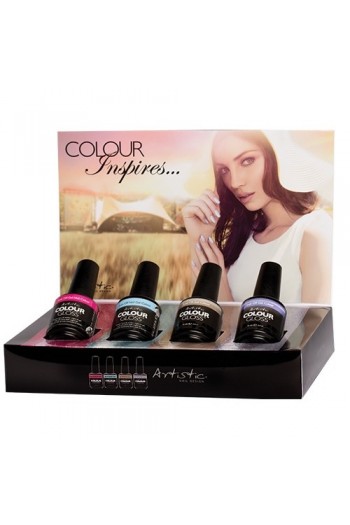 Now featuring collection kits that beautifully showcase the gorgeous selection of colours developed for the season.
Both practical and attractive, these parcels not only display the colours, they conveniently store them.
Artistic Nail Design was created by world renowned nail artists and nail product developers with the desire to fill the void in the professional nail market for a gel polish brand designed specifically for the true Artist at heart.
We pride ourselves on consistently developing innovative products that encourage Nail Artists to push the boundaries and explore new levels of creativity through their personal artistry.
The core of the brand is our exceptional colour range.
Each of our shades is individually conceptualized through inspiration and has their own unique story.
We produce six gel polish colour collections annually to continuously provide the Nail Artist with a contemporary palette of shades.
Spring Collection 2014 includes:
Charisma - 0.5oz / 15ml
Dreams - 0.5oz / 15ml
Serenity - 0.5oz / 15ml
Wishes - 0.5oz / 15ml
Related Products