Harmony Gelish – Shake Up The Magic! Collection – All 6 Colors – 15ml / 0.5oz Each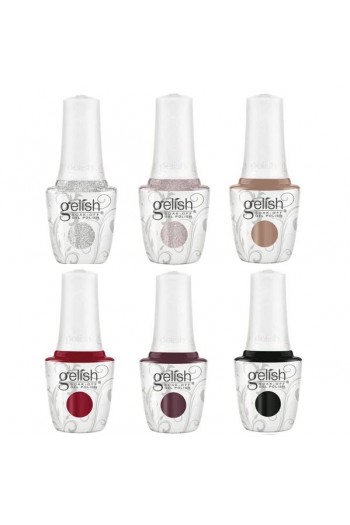 The Shake Up The Magic! Collection Includes:
Don't Snow-Flake On Me - 1110405




Bare and Toasty - 1110406




Be My Sugarplum - 1110409




Fa-La-Love That Color! - 1110410




Stilettos In The Snow - 1110413
The collection is inspired by the magic and nostalgia that comes from the holiday season. The Holiday Winter range features everything from cozy nudes to warm you up to sparkling shades that will have you holiday ready.
Gelish® Soak-Off Gel Polish applies like polish and cures in a LED lamp in 30 seconds, or 2 minutes in traditional UV lamps. Gelish stays on nails for up to 3 weeks with no chipping or peeling, and soaks completely off in only 10 - 15 minutes. Directions: Gelish® Soak-Off Gel Polish must be cured with LED Light or UV Light system. Apply over Gelish Foundation or Structure Gel. Do NOT apply directly to the natural nail. Must be cured for 30 seconds under LED Light or 2 minutes under UV Light. Apply 2 thin coats and cure between each coat. Seal with Gelish Top IT OFF. Remove with Gelish Artificial Nail Remover.
Related Products